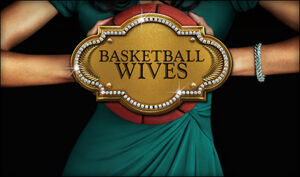 Basketball Wives: MiamiEdit
Basketball Wives (referred to as Basketball Wives: Miami) is a reality television show on the Vh1 network which premiered April 11, 2010. The show follows women romantically linked to professional basketball players. The show is set in Miami, Florida.
The series garnered a spin off, Basketball Wives LA which premiered August 29, 2011, featuring former "wife" Gloria Govan.
Production
Edit
Basketball Wives debuted on April 11, 2010, with thirty minute episodes. The second season premiered on December 12, 2010, with expanded sixty minute episode and features new cast member and actress Tami Roman. Season three made its debut on May 30, 2011 with ex-new cast member, Meeka Claxton. The fourth season premiered on February 20, 2012 at its original time 8/7c with two new cast members, Kenya Bell and ex-new cast member, Kesha Nichols and the departure replacement of Meeka Claxton after the 3rd season by Bell and Nichols. The fifth and last season is set to air on VH1 on August 19, 2013 with one new confirmed cast member Tasha Marbury and replacing the departures of ex-cast members Jennifer Williams, Royce Reed, and (former new) Kesha Nichols. It is unknown whether Kenya Bell will also not be returning for Season 5 or if she will return full time or part time.
Current
Shaunie O'Neal
Evelyn Lozada
Suzie Ketcham
Tami Roman (Season 2 - )
Kenya Bell (Season 4 - )
Tasha Marbury (Season 5 - )
Former
Gloria Govan (Season 1, recurring Season 2)
Ashley Walker (recurring Seasons 2 to 3)
Kim Russel (recurring Season 2)
Julie Richmond (recurring Season 2)
Meeka Claxton (Season 3)
Jennifer Williams (Seasons 1 to 4)
Royce Reed (Seasons 1 to 4)
Kesha Nichols (Season 4)
Cast History
Italics: Recurring
| Season 1 | Season 2 | Season 3 | Season 4 | Season 5 |
| --- | --- | --- | --- | --- |
| Shaunie O' Neal | Shaunie O' Neal | Shaunie O' Neal | Shaunie O' Neal | Shaunie O' Neal |
| Evelyn Lozada | Evelyn Lozada | Evelyn Lozada | Evelyn Lozada | Evelyn Lozada |
| Suzie Ketcham | Suzie Ketcham | Suzie Ketcham | Suzie Ketcham | Suzie Ketcham |
| Jennifer Williams | Jennifer Williams | Jennifer Williams | Jennifer Williams | |
| Royce Reed | Royce Reed | Royce Reed | Royce Reed | |
| Gloria Govan | Gloria Govan | | | |
| | Tami Roman | Tami Roman | Tami Roman | Tami Roman |
| | Ashley Walker | Ashley Walker | | |
| | Kim Russel | | | |
| | Juli Richmond | | | |
| | | Meeka Claxton | | |
| | | | Kesha Nichols | |
| | | | Kenya Bell | Kenya Bell |
| | | | | Tasha Marbury |
Series Overview
Edit
Season
Episodes
Season Premiere
Season Finale
Reunion
1
9
April 11, 2010
May 30, 2010
June 20, 2010
2
13
December 12, 2010
March 6, 2011
March 13, 2011
March 14, 2011
3
12
May 30, 2011
August 8, 2011
August 15, 2011
August 22, 2011
4
17
February 20, 2012
May 28, 2012
June 4, 2012
June 11, 2012